Trademark Licensing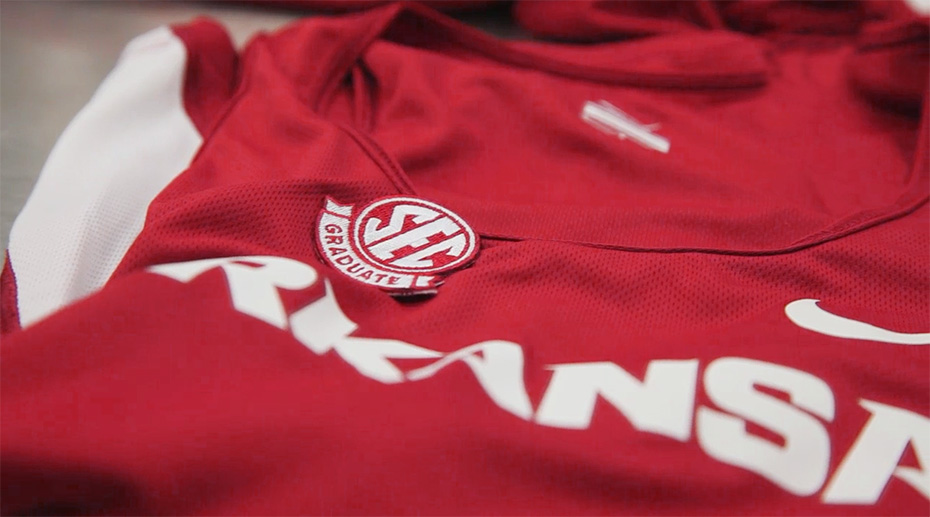 If you need alternative (written) documents or forms, contact Business Services at (479) 575-2551 or 4help@uark.edu.
Trademark Licensing has been established at the University of Arkansas to promote and protect the use of the University's name and identifying trademarks. Trademarks such as but not limited to the University Seal, and other identifying marks or logos, identifying names like "Razorbacks", "Hogs", and "University of Arkansas", as well as products, promotions, and advertising upon which these marks are used.
Any person or organization wishing to use any marks of the University of Arkansas, either direct or indirect references must become a licensed vendor through IMG College Licensing (IMGCL) in Atlanta, Georgia. They can be contacted at 770.956.0520 and following established guidelines.
Assistant Director of Marketing
479.575.3517
What is a Trademark?
A trademark is any word, phrase, symbol, design, sound, smell, color, product configuration, group of letters or numbers, or combination of these that is adopted and used by an organization to identify its products or services, and to distinguish them from products and services made, sold, or provided by others.
The primary intention of marks is to prohibit a consumer from being confused about the origin of a product or service. While consumers become acquainted with specific marks and the goods or services they represent, marks can receive a secondary indicator of quality. Most of the manufactured products that bear the U of A's marks are not produced by the University. Within the parameters of the U of A's licensing program, manufacturers are permitted through IMGCL, the U of A's licensing administrator, to handle the marks and images of the University of Arkansas on a variety of goods and services, which then become available to consumers.
Who is IMG College Licensing?
IMG College Licensing (IMGCL) is the nation's leading collegiate licensing and marketing representative. Formed in 1981, IMGCL assists collegiate licensers in protecting and controlling the use of their logos through trademark licensing.
The IMGCL Consortium consists of more than one hundred fifty (150) universities, bowl games, conferences, the NCAA, and the Heinemann Trophy. Based in Atlanta, Georgia, IMGCL provides its member institutions the expertise necessary to maximize revenue potential through the power of consolidation.
What are the University of Arkansas' trademarks?
The University has a stable of logos and work marks that are trademarked. If you have a design that is a variation of these marks and logos, it is protected by the University of Arkansas. If the design can be construed to look like a Razorback, or creates any confusion in the marketplace with the general public as to it being a "RAZORBACK," or a variation of one of the University's trademarks, then the design will infringe on the University of Arkansas' federal regulations. The University's trademarks that are registered include "UNIVERSITY OF ARKANSAS", "ARKANSAS RAZORBACKS", "ARKANSAS", "HOGS", "WOOO PIG SOOIE!", the University of Arkansas with the Old Main silhouette, any Razorback marks or images, and the University of Arkansas school Seal. An "®" emblem must appear on all products that have the University's registered marks and verbiage, otherwise a "™" must be present on all products pertaining to any of the University's marks that are not registered.
What do I need to do to become licensed with the U of A?
Parties interested in acquiring a license with the University of Arkansas must do so by requesting an application through IMG College Licensing (IMGCL). You may receive an application by calling 1.770.956.0520. You can also obtain an application and general information from theIMGCL website at www.imgcollegelicensing.com. Generally, to be licensed, there is a two hundred fifty dollar ($250.00) up front fee, fifty dollar($50.00) administration fee, two hundred dollar ($200.00) advance on royalties, a requirement to carry a minimum of one million ($1,000,000.00) in product liability insurance, and the royalty rate is twelve percent (12%) on the wholesale cost of the item. Promotional licensing is also available with a twelve percent (12%) royalty on promotional items and a promotional rights fee. Licensees are also required to sign the IMGCL Code of Conduct with the University of Arkansas addendum's.
University/IMGCL Code of Conduct for Licensees.
All University of Arkansas licensees are required to sign a Code of Conduct. The IMGCL Code of Conduct was adopted in January 2000 with an addendum that addresses women's rights, environmental protection, and public disclosure. The IMGCL Code of Conduct was adopted to help ensure that workers in this country and abroad who produce licensed goods bearing the marks of the University of Arkansas work under healthy and safe conditions and receive fair humane treatment in their workplace. For more information, or to receive a copy of the IMGCL Code of Conduct, contact IMGCL at 770.956.0520.